Piping flanges are key elements of a piping system and are used in various industries, such as oil and gas, petrochemical, manufacturing, etc. These flanges connect pipes to valves or equipment or with another pipe spool and form a tight seal that prevents leaks and ensures efficient fluid flow within the system.
Several types of piping flanges are available, each with unique features and benefits. You must understand the differences between these flanges to choose the right one for a particular application. In this article, I have listed the different types of piping flanges, their function, and applications in various piping systems. The following types of flanges are covered.
Table of Contents
The pipe flanges are the second most used joining method after welding. They are used when joints need dismantling. It provides flexibility for maintenance. Flange Connects the pipe with various equipment and valves. Breakup flanges are added to the pipeline system if regular maintenance is required during plant operation.
A flanged joint comprises three components; flanges, gaskets, and bolting, and is assembled by a pipefitter. Special controls are required to select and apply all these elements to attain a joint with acceptable leak tightness.
However, using a flange connection in underground piping is not advisable when it is supposed to be buried. The flange is also the most common source of leaks and fires in a process plant. There are a variety of flanges available to suit the requirements. A flange can be classified in several alternate ways based on the following:
Types of Connection
Flange facing Types
Pressure-Temperature Ratings
Material Types
Threaded Flanges
A threaded Flange is also known as a screwed flange, and it has a thread inside the flange bore, which fits on the pipe with a matching male thread on the pipe. This type of joint connection is speedy and simple but unsuitable for high pressure and temperature applications. Threaded Flanges are mostly used in utility services such as air and water.
Threaded Flange is mostly used in utility services such as air and water
It is not suitable for high presser and temperature applications
It is also available in limited Size of NPS 4" and below
Threaded Flanges can be FF or RF
It is a low-cost flange.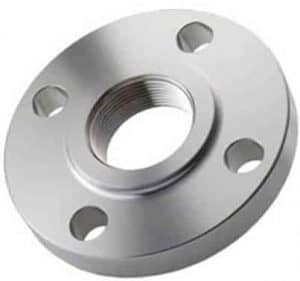 Socket-Weld Flanges
Socket-Weld Flanges have a female socket in which the pipe is fitted. Fillet welding is done from outside on the pipe. Generally, it is used in small bore piping and is only suitable for low pressure and temperature application.
Socket-Welded Flanges can be FF or RF.
The cost of flange and fabrication is moderate.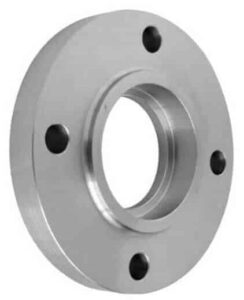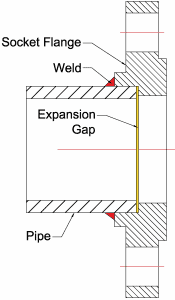 Flange and Olet Quiz – Test yourself, Take This Quiz
Slip-On Flanges
Slip-On flange has a hole with a matching outside diameter of pipe from which pipe can pass. The flange is placed on pipe and fillet welded from both inside and outside. Slip-On Flange is suitable for low pressure and temperature application.
This type of flange is available in large sizes also.
It can be FF or RF
The cost of flange and fabrication is moderate.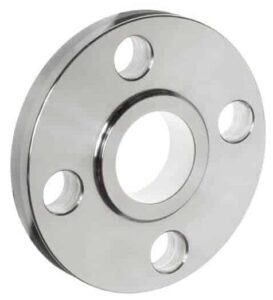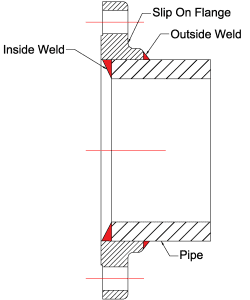 Lap Joint Flanges
The lap flange has two components: a stub end and a loose backing flange. The stub end is butt-welded to the pipe, and the backing flange freely moves over the pipe. The backing flange can be of a different material than stub material and normally of carbon steel to save the cost. A lap flange is used where frequent dismantling is required, and space is constrained.
The backing flange can be of a different material than stub material and normally of carbon steel to save the cost.
This flange provides better joining due to butt-weld as compared to socket and threaded type flanges.
Not suitable for small size, Costly components, and fabrication as compared to threaded, slip-on, and socket flange.
The lap flange provides connection flexibility as you can freely rotate the flange on the pipe. It is used where frequent dismantling is required and space is constrained.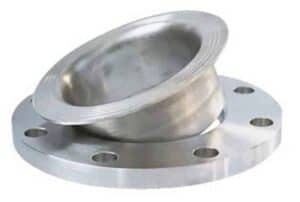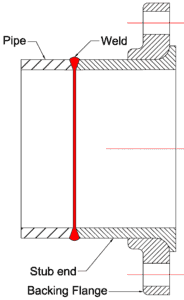 Weld Neck Flanges
Weld neck flange is the most widely used type in process piping. It gives the highest level of joint integrity as it is butt-welded with a pipe. These types of flanges are used in high pressure and temperature application. Weld neck flanges are Bulky & costly with respect to other types of flanges.
High skill is required for fabrication.
Required more space to accommodate in the piping system due to the long hub
Weld Neck Flange is available in all sizes & it can be FF, RF, or RTJ type
You can see the Weld Neck flange welded with pipe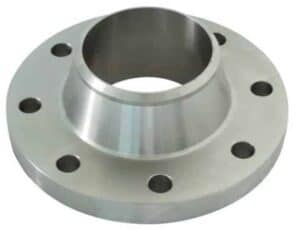 Blind Flanges
The blind flange is a blank disc with a bolt hole. These flanges are used with another type of flange to isolate the piping system or terminate the piping as an end. Blind flanges are also used as a manhole cover in the vessel.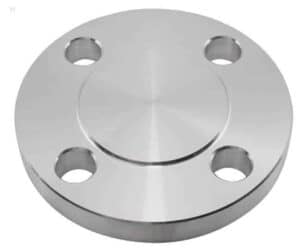 Reducing Flange
A reducing flange is used in place of a standard flange to allow for a change in pipe size. This flange eliminates the need for a standard reducer in piping. The flange consists of one specified diameter with a smaller diameter bore size.
Except for the bore and hub dimensions, a reducing flange has dimensions of the standard pipe flange size and is considered economical to make a pipe size transition.
These flanges are available in weld neck, slip-on, and threaded end types. Reducing flanges are an economical way to make transitions between pipes of different sizes, however, due to high-pressure loss, they are rarely used in piping. ASME B16.5 covers the dimensions of reducing flanges.
Image source: www.msmmfg.com
Expander Flange
It is similar to a weld neck flange but increases the size of the pipe to the first or second larger size. It is an alternative to using a reducer and weld neck flange. Useful for connecting to valves, compressors, and pumps.
These flanges are specially designed. Dimensions of the weld neck are in line with the connecting pipe, other dimensions are in accord with standard ASME B16.5 flanges.
Image source: www.msmmfg.com
Flangeolet / Weldoflange / Nippoflange
Flangeolet is a combination of two olets (mainly weldolet or nipple) and a flange as you can see in the image that the hub length is longer, like a long neck weld flange. It is a 90 Degree branch connection used for high-pressure piping.
It reduces the two weld joints more than the traditional Olet + Pipe + Flange connection and one weld joint in the case of the Olet + Flange connection. You can see the image of the flangeolet branch.
Flange Types Based on Faces Type
Depending on the flange facing Types, it can be further classified as
Flat Face (FF)
Raised Face (RF)
Ring Joint (RTJ)
Tongue and groove (T&G)
And Male and Female type

Flat Face
As the name suggests, the flat face flange has a flat face. Flat face flanges are used when the counter-flanges are flat faces. This condition occurs mainly in connection to Cast Iron equipment, valves, and specialties. A full-face gasket is used when a flat face flange is used.
Raised Face
Raised face flange has a small portion around the bore raised from the face. The gasket seat on this raised face. The height of the raised face depends on the flange pressure-temperature rating, known as a flange class. For 150# & 300# height of the raised face is 1/16", and above 300#, it is 1/4". The inside bore circle type of gasket is used with a raised face flange.
RTJ Face
Ring joint type face flange has a specially designed grove in which metal gasket seats. This type of flange is used in high pressure and temperature services.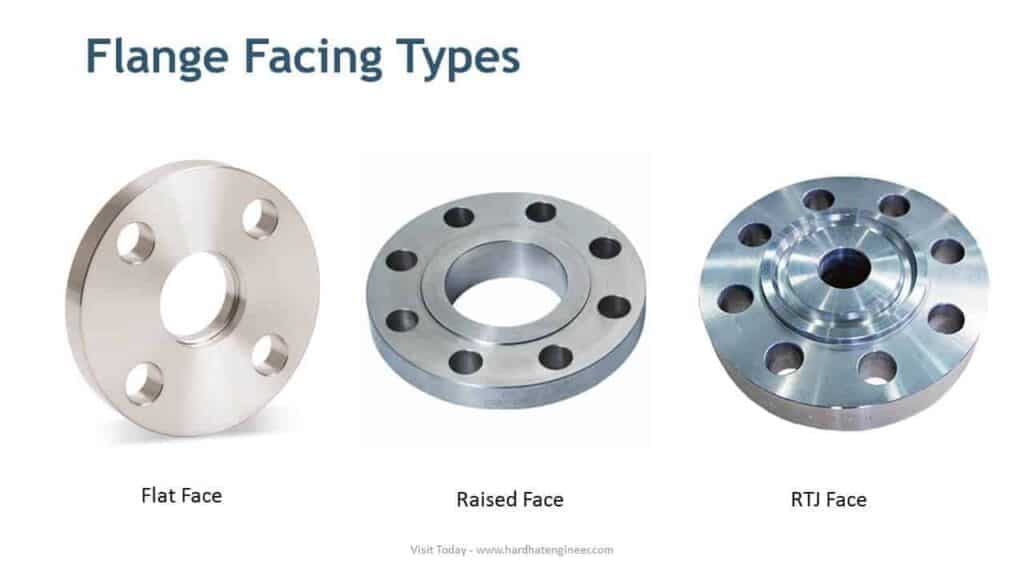 Flange Materials
Flanges are welded to pipe and equipment nozzle. Accordingly, it is manufactured from the following materials;
Carbon steel
Low alloy steel
Stainless steel
Combination of Exotic materials (Stub) and other backing materials
The list of materials used in manufacturing is covered in ASME B16.5 & B16.47.
ASME B16.5 -Pipe Flanges and Flanged Fittings NPS ½" to 24"
ASME B16.47 -Large Diameter Steel Flanges NPS 26" to 60"
Commonly used Forged material grads are
Carbon Steel: – ASTM A105, ASTM A350 LF1/2, ASTM A181
Alloy Steel: – ASTM A182F1 /F2 /F5 /F7 /F9 /F11 /F12 /F22
Stainless Steel: – ASTM A182F6 /F304 /F304L /F316 /F316L/ F321/F347/F348
Flange Inspection
Before dispatching from the manufacturer, each flange is inspected to ensure quality. During an inspection, you have to check the following;
Outer & Inner Diameter of body
Bolt Circle & Bolt hole Diameter
Hub Diameter & thickness of weld end
Length of the Hub
Straightness and alignment of the bolt hole
ASME B16.5 and B16.47 standards cover permissible tolerances for inspection.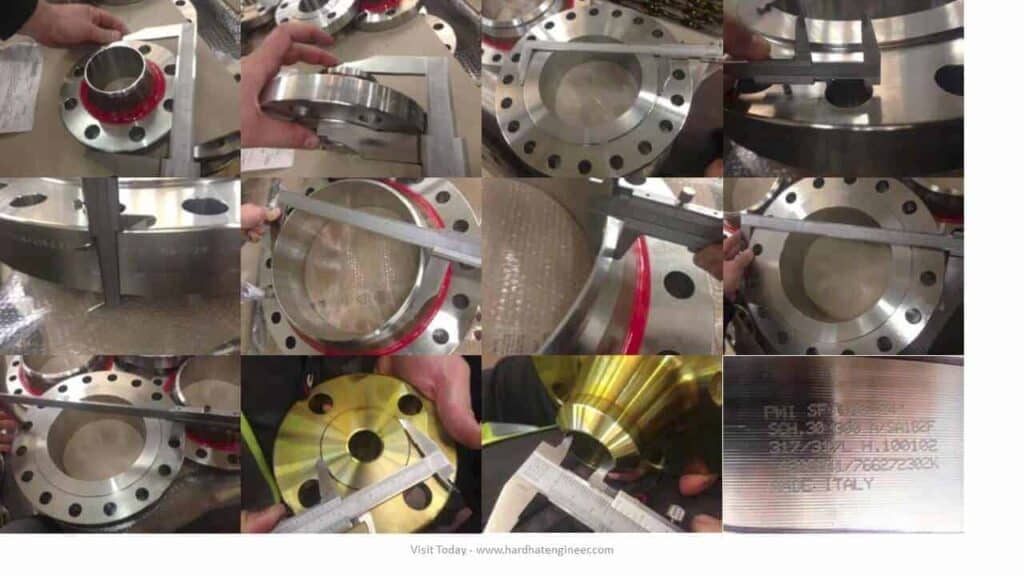 Marking on the Flange Body
Each piping component is marked for proper identification. Marking of flanges must include the following so that during fabrication and post-fabrication, it can be easily traced;
Manufacturer logo
ASTM material code
Material Grade
Service rating (Pressure-temperature Class))
Size
Thickness (Schedule)
Heat No
Special marking if any QT (Quenched and tempered) or W (Repair by welding)

Are You Piping Components Master?