What is Threadolet?
Threadolet is a type of self-reinforced branch fitting developed by a Company called Bonney Forge. It is used whenever threaded branch connections are required from the pipe header. Mostly, it is used for small size piping with a low-pressure application.
Threadolets are available in full size or reducing size. Full size is when you take a branch of the same size as run pipe size for example 3 inches to 3 inches. And reducing size is when branch size is less than run pipe size. For example, 3 inches to 1 inch. Threadolet 's end is suited for the threaded connection.
This olet is available in class 3000 and class 6000 pressure-temperature ratings.


Threadolet® is a Registered Trademark of Bonney Forge.
Threadolet Dimensions
During the Dimensional inspection of threadolet, you should check for
Outer & Inner Diameter of body
Length of the Hub
Thread Dimensions
Being a trailer product, threadolets are designed for specific conditions based on Process piping Code ASME B31.3, hence, Dimension is also specified by the designer. However, MSS-SP-97 provide dimension requirements for standard 90° self-reinforced branch connection with butt, socket and threaded end types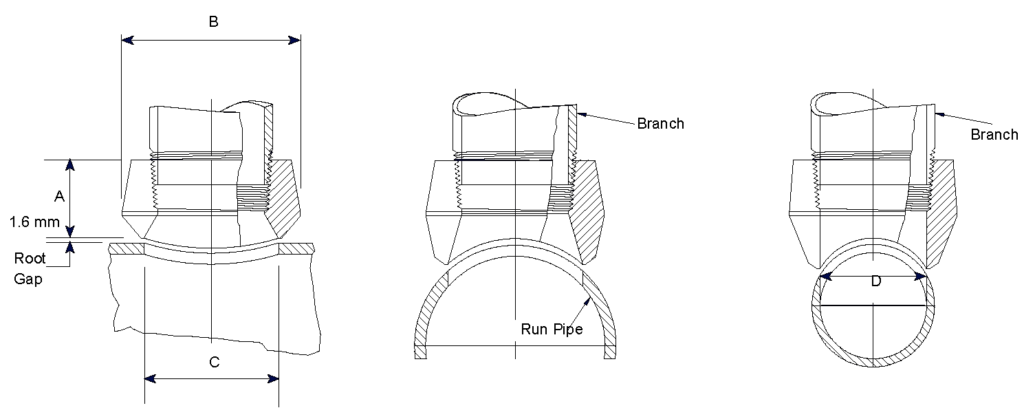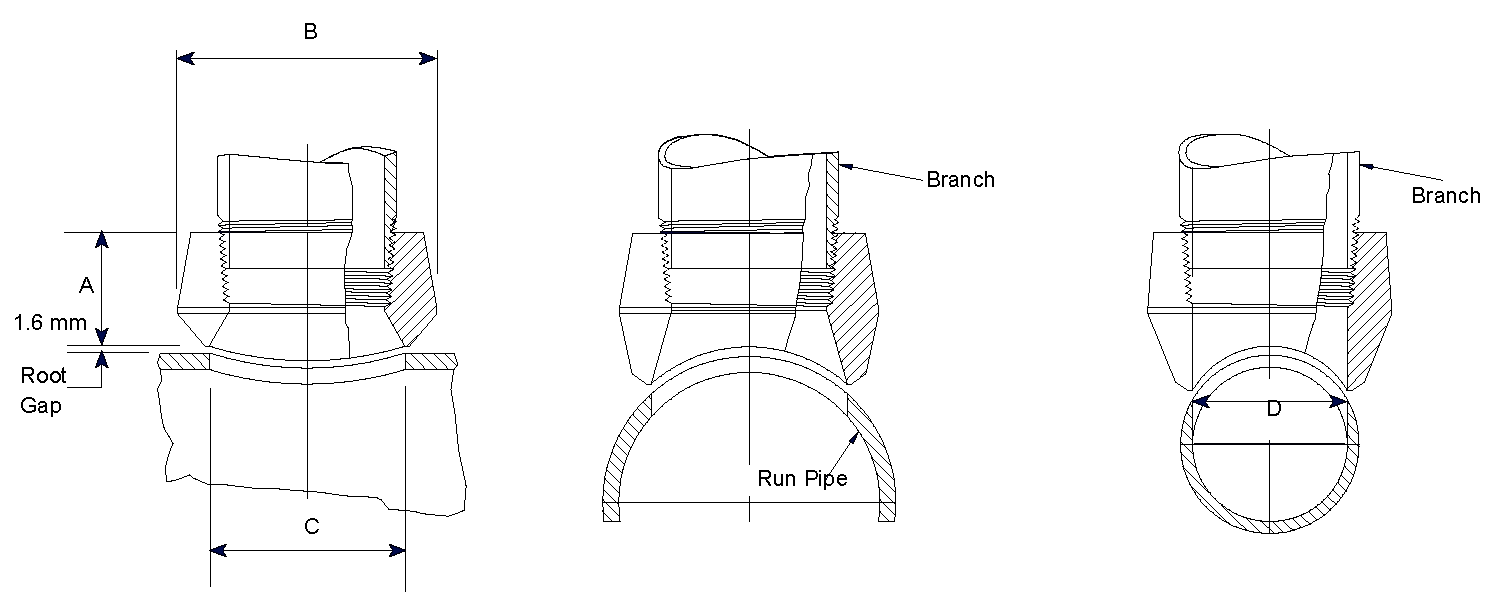 Class 3000 Dimensions
| Size in Inches | A | B | C | D | Weight in KG |
| --- | --- | --- | --- | --- | --- |
| 1/8 | 19.05 | 25.40 | 15.88 | | 0.05 |
| 1/4 | 19.05 | 25.40 | 15.88 | | 0.05 |
| 3/8 | 20.64 | 31.75 | 19.05 | | 0.09 |
| 1/2 | 25.40 | 35.72 | 23.81 | | 0.11 |
| 3/4 | 26.99 | 43.66 | 29.37 | | 0.16 |
| 1 | 33.34 | 50.80 | 36.51 | | 0.27 |
| 1 1/4 | 33.34 | 65.09 | 44.45 | | 0.41 |
| 1 1/2 | 34.93 | 72.23 | 50.80 | | 0.45 |
| 2 | 38.10 | 88.11 | 65.09 | | 0.79 |
| 2 1/2 | 46.04 | 103.19 | 76.20 | | 1.36 |
| 3 | 50.80 | 122.24 | 93.66 | | 1.97 |
| 3 1/2 | 53.98 | 132.56 | 101.60 | | 2.61 |
| 4 | 57.15 | 151.61 | 120.65 | | 3.22 |
| 5 | 66.68 | 185.74 | 141.29 | | 5.44 |
| 6 | 69.85 | 219.08 | 169.86 | | 6.94 |

Class 6000 Dimensions
| Size in Inches | A | B | C | D | Weight in KG |
| --- | --- | --- | --- | --- | --- |
| 1/4 | 28.58 | 34.13 | 14.29 | | 0.14 |
| 3/8 | 28.58 | 34.13 | 14.29 | | 0.14 |
| 1/2 | 31.75 | 43.66 | 19.05 | | 0.20 |
| 3/4 | 36.51 | 49.61 | 25.40 | | 0.34 |
| 1 | 39.69 | 61.91 | 33.34 | | 0.57 |
| 1 1/4 | 41.28 | 69.06 | 38.10 | | 0.73 |
| 1 1/2 | 42.86 | 82.55 | 49.21 | | 0.88 |
| 2 | 55.03 | 102.39 | 69.85 | | 2.27 |
Size on Size Class 3000 Dimensions
| Size in Inches | A | B | C | D | Weight in KG |
| --- | --- | --- | --- | --- | --- |
| 1/2 | 25.40 | 34.93 | 23.81 | 15.88 | 0.07 |
| 3/4 | 26.99 | 41.28 | 30.16 | 20.64 | 0.11 |
| 1 | 33.34 | 50.80 | 36.51 | 26.99 | 0.20 |
| 1 1/4 | 33.34 | 60.33 | 44.45 | 34.93 | 0.32 |
| 1 1/2 | 34.93 | 73.03 | 50.80 | 41.28 | 0.41 |
| 2 | 38.10 | 88.90 | 65.09 | 52.39 | 0.64 |
| 2 1/2 | 48.42 | 103.19 | 76.20 | 63.50 | 1.13 |
| 3 | 50.80 | 122.24 | 93.66 | 77.79 | 1.95 |
| 3 1/2 | 53.98 | 136.53 | 112.71 | 90.49 | 2.04 |
| 4 | 57.15 | 153.99 | 120.65 | 103.19 | 3.08 |
| 5 | 61.91 | 184.15 | 133.35 | 133.35 | 4.17 |
| 6 | 69.85 | 220.66 | 146.05 | 146.05 | 7.12 |