New Year, New Beginning, New Hope
50% of All Courses- Use Code "NY21"
Perfection is the key to success. Promise yourself to be the best, and this year will be all yours.
Concentric Pipe Reducer and Eccentric Pipe Reducer Dimensions are covered in ASME B16.9. Refer to the table given below for the size 1/2″ to 24″.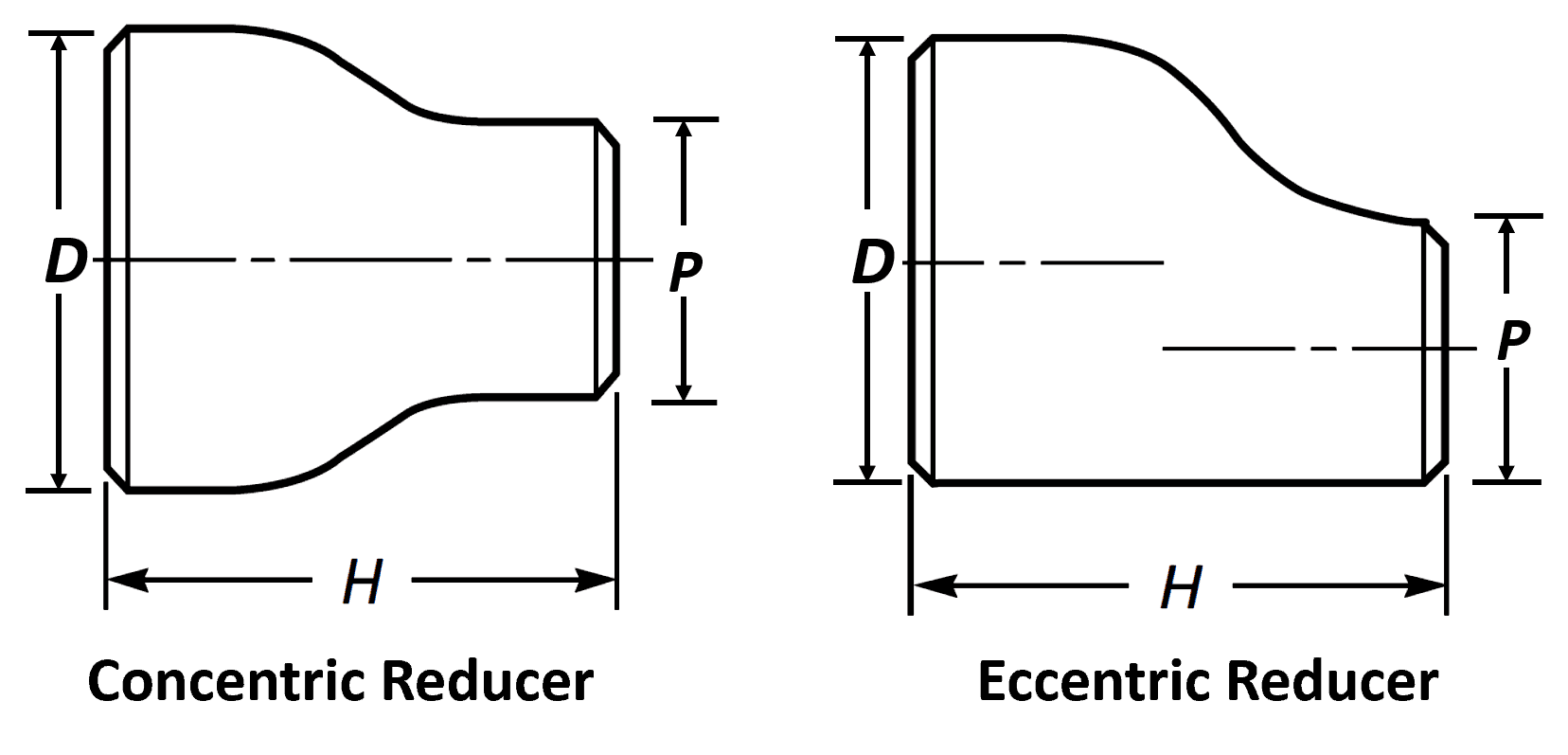 NOMINAL PIPE SIZE
OUTSIDE DIAMETER
END TO END
Inch
D
P
H
3/4 x 1/2
26.7
21.3
38
3/4 x 3/8
26.7
17.1
38
1 x 3/4
33.4
26.7
51
1 x 1/2
33.4
21.3
51
1 1/4 x 1
42.2
33.4
51
1 1/4 x 3/4
42.2
26.7
51
1 1/4 x 1/2
42.2
21.3
51
1 1/2 x 1 1/2
48.3
42.2
64
1 1/2 x 1
48.3
33.4
64
1 1/2 x 3/4
48.3
26.7
64
1 1/2 x 1/2
48.3
21.3
64
2 x 1 1/2
60.3
48.2
76
2 x 1 1/4
60.3
42.2
76
2 x 1
60.3
33.4
76
2 x 3/4
60.3
26.7
76
2 1/2 x 2
73
60.3
89
2 1/2 x 1 1/2
73
48.3
89
2 1/2 x 1 1/4
73
42.2
89
2 1/2 x 1
73
33.4
89
3 x 2 1/2
88.9
73
89
3 x 2
88.9
60.3
89
3 x 1 1/2
88.9
48.3
89
3 x 1 1/4
88.9
42.2
89
3 1/2 x 3
101.6
88.9
102
3 1/2 x 21/2
101.6
73
102
3 1/2 x 2
101.6
60.3
102
3 1/2 x 1 1/2
101.6
48.3
102
3 1/2 x 1 1/4
101.6
42.2
102
4 x 3 1/2
114.3
101.6
102
4 x 3
114.3
88.9
102
4 x 2 1/2
114.3
73
102
4 x 2
114.3
60.3
102
4 x 1 1/2
114.3
48.3
102
5 x 4
141.3
114.3
127
5 x 3 1/2
141.3
101.6
127
5 x 3
141.3
88.9
127
5 x 2 1/2
141.3
73
127
5 x 2
141.3
60.3
127
6 x 5
168.3
141.3
140
6 x 4
168.3
114.3
140
6 x 3 1/2
168.3
101.6
140
6 x 3
168.3
88.9
140
6 x 2 1/2
168.3
73
140
8 x 6
219.1
168.3
152
8 x 5
219.1
141.3
152
8 x 4
219.1
114.3
152
8 x 3 1/2
219.1
101.6
152
10 x 8
273.1
219.1
178
10 x 6
273.1
168.1
178
10 x 5
273.1
141.3
178
10 x 4
273.1
114.3
178
12 x 10
323.9
273.1
203
12 x 8
323.9
219.1
203
12 x 6
323.9
168.3
203
12 x 5
323.9
141.3
203
14 x 12
355.6
323.9
330
14 x 10
355.6
273.1
330
14 x 8
355.6
219.1
330
14 x 6
355.6
168.3
330
16 x 14
406.4
355.6
356
16 x 12
406.4
323.9
356
16 x 10
406.4
273.1
356
16 x 8
406.4
219.1
356
16 x 6
406.4
168.3
356
18 x 16
457
406.4
381
18 x 14
457
355.6
381
18 x 12
457
323.9
381
18 x 10
457
273.1
381
18 x 8
457
219.1
381
20 x 18
508
457
508
20 x 16
508
406.4
508
20 x 14
508
355.6
508
20 x 12
508
323.9
508
20 x 10
508
273.1
508
20 x 8
508
219.1
508
22 x 20
559
508
508
22 x 18
559
457
508
22 x 16
559
406.4
508
22 x 14
559
355.6
508
22 x 12
559
323.9
508
24 x 10
559
273.1
508
24 x 22
610
559
508
24 x 20
610
508
508
24 x 18
610
457
508
24 x 16
610
406.4
508
24 x 14
610
355.6
508
24 x 12
610
323.9
508
24 x 10
610
273.1
508
All Dimensions are in mm
Pipe Fittings Dimensions Tolerance as per ASME B16.9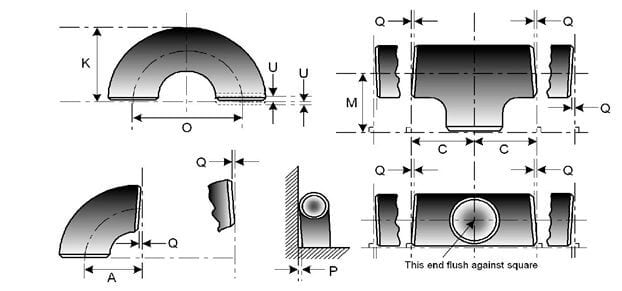 NOMINAL PIPE SIZE

ALL FITTINGS

ALL FITTINGS

ALL FITTINGS

ELBOWS AND TEES

180 DEG RETURN BENDS

180 DEG RETURN BENDS

180 DEG RETURN BENDS

REDUCERS

CAPS

NPS

O.D. at Bevel (1), (2)

I.D. at End




(1), (3), (4)

Wall Thickness (3)

Centre-to-End Dimension A,B,C,M

Centre-to-Centre O

Back-to-Face K

Alignment of Ends U

Overall Length H

Overall Length E

½ to 2½
0.06
-0.03
0.03
Not less than 87.5% of nominal thickness
0.06
0.25
0.25
0.03
0.06
0.12
3 to 3 ½
0.06
0.06
0.06
0.25
0.25
0.03
0.06
0.12
4
0.06
0.06
0.06
0.25
0.25
0.03
0.06
0.12
5 to 8
0.09
-0.06
0.06
0.06
0.25
0.25
0.03
0.06
0.25
10 to 18
0.16
-0.12
0.12
0.09
0.38
0.25
0.06
0.09
0.25
20 to 24
0.25
-0.19
0.19
0.09
0.38
0.25
0.06
0.09
0.25
26 to 30
0.25
-0.19
0.19
0.12
…
…
…
0.19
0.38
32 to 48
0.25
-0.19
0.19
0.19
…
…
…
0.19
0.38
NOMINAL PIPE SIZE NPS
ANGULARITY TOLERANCES
ANGULARITY TOLERANCES
ALL DIMENSIONS ARE GIVEN IN INCHES. TOLERANCES ARE EQUAL PLUS AND MINUS EXCEPT AS NOTED.
Off Angle Q
Off Plane P
(1) Out-of-round is the sum of absolute values of plus and minus tolerance.
(2) This tolerance may not apply in localized areas of formed fittings where increased wall thickness is required to meet design requirements of ASME B16.9.
(3) The inside diameter and the nominal wall thicknesses at ends are to be specified by the purchaser.
(4) Unless otherwise specified by the purchaser, these tolerances apply to the nominal inside diameter, which equals the difference between the nominal outside diameter and twice the nominal wall thickness.
½ to 4
0.03
0.06
5 to 8
0.06
0.12
10 to 12
0.09
0.19
14 to 16
0.09
0.25
18 to 24
0.12
0.38
26 to 30
0.19
0.38
32 to 42
0.19
0.50
44 to 48
0.18
0.75
Don't forget to subscribe