Pipe Inspection is a continuous process during manufacturing. Different types of inspection and testing are performed on a pipe to ensure its quality. Refer to the list given below for the types of inspection performed on a pipe.
Metallurgical
Destructive
Hydro Test
NDT
Visual
Dimension
Marking
Product Analysis – Chemical & Mechanical Testing of Pipe
Metallurgical Tests
Metallurgical Tests confirm that the chemical requirements of the pipe are as per the material standard.
Metallurgical Tests are normally known as Micro and Macro pipe inspection & testing.
Micro Analysis or Chemical Analysis of

Raw material
Product
Weld ensures that all the alloying elements are within the range as specified in the material standard.

Macro Analysis for Weld will check the proper fusion of weld material with pipe material.
Some special pipe inspection tests are also carried out on the material when it is going to be used in aggressive environments. These tests will ensure that pipe material is able to withstand in such aggressive environments also. Some of the tests are
Grain size (AS & SS)
IGC- Intergranular Corrosion Test(SS)
Ferrite (SS)
HIC- Hydrogen-induced Cracking
SSC- Sulfide Stress Corrosion Cracking
These tests are performed when it is asked by the purchaser in his specification.
Destructive test
The mechanical / Destructive test of pipe inspection confirms the mechanical requirements of pipe are as per the material standard.
In Destructive Testing- a sample from the pipe is cut to perform tests
The tensile test is done to check the yield and ultimate tensile of the pipe. If required by the purchaser or by standard high or low-temperature tensile tests are also performed.
Bend test / Guided bend test is used to check the integrity of weld joint
The flattening test examines the ability of plastic deformation in a pipe
Impact test / Charpy V-Notch Test, check the ability of a material to withstand low-temperature conditions
A creep test is done to check the long-term effect of temperature under constant load.

Pipe Inspection – Hydro Test, NDT, Visual and Dimension
To ensure product quality, during and after the production, certain pipe inspection and non-destructive testing are performed on the body & weld of the pipe. These pipe inspections will check whether any physical defects are present in the pipe/weld, which may affect its performance during the service. These testing are
Flux leakage examination or Magnetic flaw detection
Eddy current
Ultrasonic – can be done on full body or only for weld seam
Radiography (Only for Weld)
Magnetic particle test for pipe ends & weld seam
Positive Material Identification.
Piping Component Quiz – Test yourself, Take This Quiz
Hydrotest of Pipe
Hydrostatic Test or Hydrotest of a pipe is carried out to
Ensure that the pipe is 100% leakproof
It also ensures the ability of the pipe to withstand pressure
Hydro test pressure is calculated based on the equation given in ASTM A530,
P = 2St/D or S = PD/2t
P = hydrostatic test pressure in psi or Mpa,
S = pipe wall stress in psi or Mpa,
t = specified nominal wall thickness, nominal wall thickness corresponding to specified ANSI schedule number, or 1.143 times the specified minimal wall thickness, in. [mm], and
D = specified outside diameter, outside diameter corresponding to specified ANSI pipe size, or outside diameter calculated by adding 2t (as defined above) to the specified inside diameter, in. [mm].
Holding time for the hydro test is a minimum of 5 sec as per ASTM A530. The pressure is monitored by the computerizing system. For welded pipe inspection, the test pressure should be held for a time sufficient to permit the inspector to examine the entire length of the welded seam. A hydrostatic test can be waived under certain conditions as set in the ASTM standard.


Pipe Visual Inspection
Visual Inspection is one of the most effective inspection methods used to check overall product quality. During the visual inspection, you will check for the overall product finish. You will check for surface imperfections such as mechanical marks, lamination, tears, or any other visual imperfections and also check weld defects such as porosity, undercuts, uneven weld bead, and excess or underfill of weld material. Acceptance of these imperfections is as per applicable ASTM standards.
Pipe Dimension Inspection
Dimension inspection of the pipe is carried out based on the Dimension Standard. The pipe's final dimension must confirm the following standard, or it should be as specified in the purchaser's specification.
For Welded and Seamless Wrought Steel Pipe, dimensional requirements are covered in ASME B36.10.
For Stainless Steel Pipe, dimensional requirements are covered in ASME B36.19.
During a dimensional inspection, the following is to be confirmed with the standard.
Diameter
Length
Thickness
Straightness
Ovality &
Weight
Permissible Variations depend on manufacturing standards.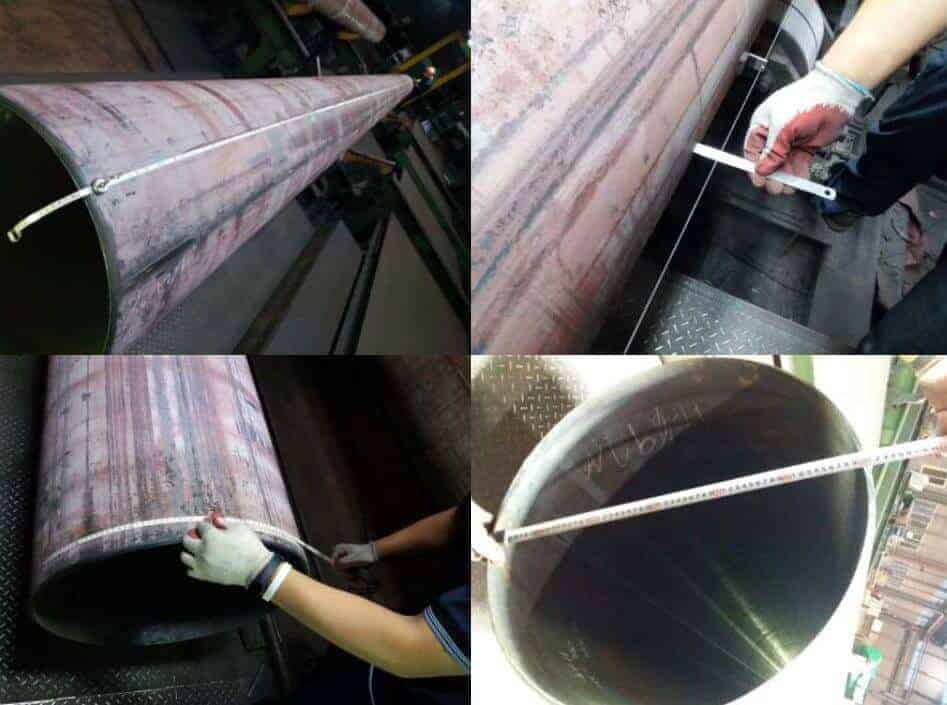 Tolerances for Pipe Outside Diameter
Nominal Pipe Size
Carbon Steel
Stainless Steel
NPS
DN
ASTM A53M
ASTM A106M
ASTM A999M
⅛ to 1½
6 to 40
±0.4 mm
±0.4 mm
+0.4 / -0.8 mm
Over 1½ to 4
Over 40 to 100
±1%
±0.8 mm
±0.8 mm
Over 4 to 8
Over 100 to 200
±1%
+1.6 / -0.8 mm
+1.6 / -0.8 mm
Over 8 to 18
Over 200 to 450
±1%
+2.4 / -0.8 mm
+2.4 / -0.8 mm
Over 18 to 26
Over 450 to 650
±1%
+3.2 / -0.8 mm
+3.2 / -0.8 mm
Over 26 to 34
Over 650 to 850
±1%
+4.0 / -0.8 mm
+4.0 / -0.8 mm
Over 34 to 48
Over 850 to 1200
±1%
+4.8 / -0.8 mm
+4.8 / -0.8 mm
Tolerances for Pipe Wall Thickness
Nominal Pipe Size
Carbon Steel
Stainless Steel
NPS
DN
ASTM A53M & 106M
ASTM A312M
6 to 65
⅛ to 2½
-12.5% minimum
(maximum wall thickness limited only by mass)
+ 20 / -12.5%
3 to 18, t/D ≤ 5%
80 to 450, t/D ≤ 5%
+ 22.5 / -12.5%
3 to 18, t/D > 5%
80 to 450, t/D > 5%
+ 15 / -12.5%
20 and over – welded
500 and over – welded
+ 17.5 / -12.5%
20 and over – seamless, t/D ≤ 5%
20 and over – seamless, t/D ≤ 5%
+ 22.5 / -12.5%
20 and over – seamless, t/D > 5%
20 and over – seamless, t/D > 5%
+ 15 / -12.5%
t = nominal wall thickness
D = ordered outside diameter
Tolerances for Pipe Mass/weight
The mass of all carbon steel pipe and seamless stainless steel pipe is limited to +10% and a minus limit that varies depending on size – refer to standards for more details.
Straightness Tolerances for Pipe
The carbon steel pipe standards require only that "the finished pipe shall be reasonably straight".
ASTM A312M (in ASTM A999M) requires a welded stainless steel pipe to be straight to within 3.2 mm over 3.0 m lengths. Generally, the thumb rule is that 1 mm per meter is acceptable. However, most purchasers clearly specified a maximum acceptable limit for straightness.
Pipe Marking Inspection
Once the pipe clears, all tests and inspections, it will be marked as per the standard requirements.
The following shall be marked on the pipe

Manufacturer logo
ASTM material code
Material Grade
Size
Thickness- schedule no.
Length
Heat No
Special marking WR for weld repair or NH for the non-hydro-tested pipe.

These Marking can be done by paint or by Hard punching
For stainless steel, pipe stenciling is also used
Please note that
For carbon steel, no hard-punching below 6 mm thickness
For stainless steel, no hard-punching below 12 mm thickness


Pipe Packing Inspection
To prevent damage during transportation, pipe ends are covered with a cap. Spider supports at the end of the pipe are also installed in Large diameter pipes to protect the circularity of the pipe.

Supplementary Requirements for Pipe Inspection
Supplementary requirements are optional that the purchaser has to specify along with purchase requisition. Mainly these requirements are related to additional testing of the product such as low-temperature tensile, transverse tensile, restriction on Carbon Equivalent, etc.
Each standard lists these requirements at the end of the standard product requirements.
Refer Table for Supplementary requirements of ASTM A106 & ASTM A312,
| ASTM A106 | ASTM A312 |
| --- | --- |
| Product Analysis | Product Analysis |
| Transverse Tension Test | Transverse Tension Test |
| Flattening Test, standard | Flattening Test |
| Flattening Test, Enhanced | Etching Tests |
| Metal Structure and Etching Test | Radiographic Examination |
| Carbon Equivalent | Stabilizing Heat Treatment |
| Heat Treated Test Specimens | Intergranular Corrosion Test |
| Internal Cleanliness–Government Orders | Minimum Wall Pipe |
| Requirements for Carbon Steel Pipe for Hydrofluoric Acid Alkylation Service | Weld Decay Test |
Are You Piping Components Master?