New Year, New Beginning, New Hope
50% of All Courses- Use Code "NY21"
Perfection is the key to success. Promise yourself to be the best, and this year will be all yours.
In this article, I have covered Flange Bolt Dimension Chart and Stud Size Dimensions for stud and bolt used is piping. Diameter and Lengths of the stud and bolt are covered in flange standard ASME B16.5 & B16.47. as you are going to use bolt and stud to connect flanges.
Image shown below indicates the nomenclature that used in the dimension chart.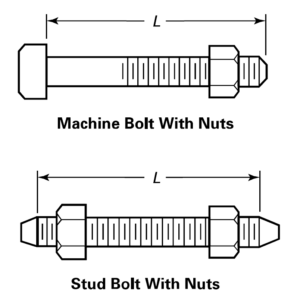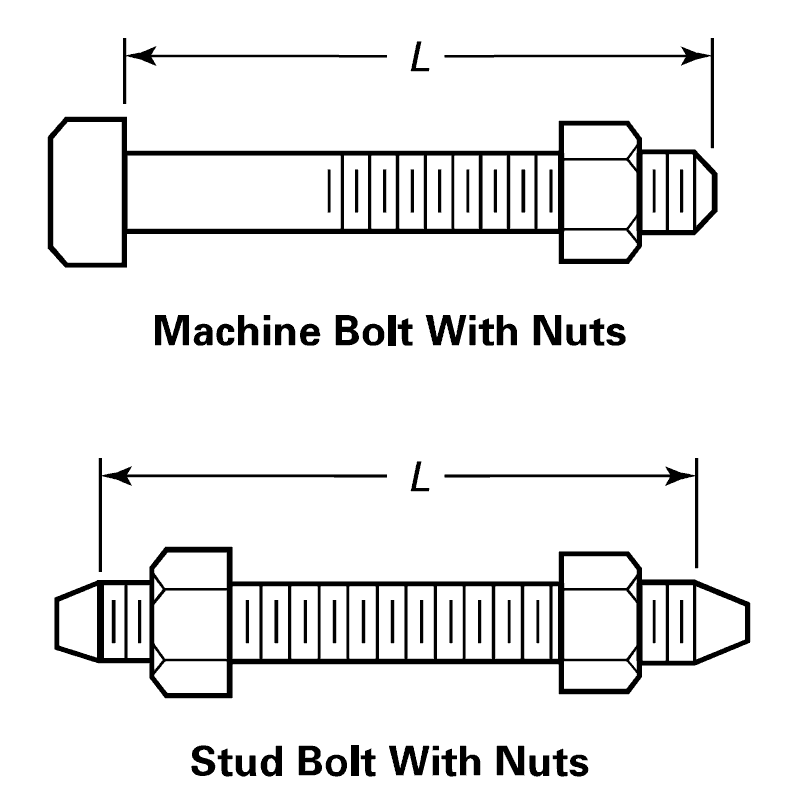 Class 150 Pipe Flange Bolt Charts
Size in Inch
Size in mm
No of Bolts
Bolt Size UNC
RF Stud Length
ISO Stud Size
Machine Bolt Length
Class 150 Flange
1/2
15
4
1/2
55
M14
50
3/4
20
4
1/2
65
M14
50
1
25
4
1/2
65
M14
55
1 1/4
32
4
1/2
70
M14
55
1 1/2
40
4
1/2
70
M14
65
2
50
4
5/8
85
M16
70
2 1/2
65
4
5/8
90
M16
75
3
80
4
5/8
90
M16
75
3 1/2
90
8
5/8
90
M16
75
4
100
8
5/8
90
M16
75
5
125
8
3/4
95
M20
85
6
150
8
3/4
100
M20
85
8
200
8
3/4
110
M20
90
10
250
12
7/8
115
M24
100
12
300
12
7/8
120
M24
100
14
350
12
1
135
M27
115
16
400
16
1
135
M27
115
18
450
16
1 1/8
145
M30
125
20
500
20
1 1/8
160
M30
140
24
600
20
1 1/4
170
M33
150

Class 300 Flange Bolt Charts
Size in Inch
Size in mm
No of Bolts
Bolt Size UNC
RF Stud Length
ISO Stud Size
Machine Bolt Length
Class 300 Flange
1/2
15
4
1/2
65
M14
55
3/4
20
4
5/8
75
M16
65
1
25
4
5/8
75
M16
65
1 1/4
32
4
5/8
85
M16
70
1 1/2
40
4
3/4
90
M20
75
2
50
8
5/8
90
M16
75
2 1/2
65
8
3/4
100
M20
85
3
80
8
3/4
110
M20
90
3 1/2
90
8
3/4
110
M20
95
4
100
8
3/4
115
M20
95
5
125
8
3/4
120
M20
110
6
150
12
3/4
120
M20
110
8
200
12
7/8
140
M24
120
10
250
16
1
160
M27
140
12
300
16
1 1/8
170
M30
145
14
350
20
1 1/8
180
M30
160
16
400
20
1 1/4
190
M33
165
18
450
24
1 1/4
195
M33
170
20
500
24
1 1/4
205
M33
185
24
600
24
1 1/2
230
M39
205
Class 400 Flange Bolt and Stud Dimension Chart
Size in Inch
Size in mm
No of Bolts
Bolt Size UNC
RF Stud Length
ISO Stud Size
Class 400 Flange
1/2
15
4
1/2
75
M14
3/4
20
4
5/8
90
M16
1
25
4
5/8
90
M16
1 1/4
32
4
5/8
95
M16
1 1/2
40
4
3/4
110
M20
2
50
8
5/8
110
M16
2 1/2
65
8
3/4
120
M20
3
80
8
3/4
125
M20
3 1/2
90
8
7/8
140
M24
4
100
8
7/8
140
M24
5
125
8
7/8
145
M24
6
150
12
7/8
150
M24
8
200
12
1
170
M27
10
250
16
1 1/8
190
M30
12
300
16
1 1/4
205
M33
14
350
20
1 1/4
210
M33
16
400
20
1 3/8
220
M36
18
450
24
1 3/8
230
M36
20
500
24
1 1/2
240
M39
24
600
24
1 3/4
265
M45
Bolt Charts for Class # 600 Flanges
Size in Inch
Size in mm
No of Bolts
Bolt Size UNC
RF Stud Length
ISO Stud Size
Class 600 Flange
1/2
15
4
1/2
75
M14
3/4
20
4
5/8
90
M16
1
25
4
5/8
90
M16
1 1/4
32
4
5/8
95
M16
1 1/2
40
4
3/4
110
M20
2
50
8
5/8
110
M16
2 1/2
65
8
3/4
120
M20
3
80
8
3/4
125
M20
3 1/2
90
8
7/8
140
M24
4
100
8
7/8
145
M24
5
125
8
1
165
M27
6
150
12
1
170
M27
8
200
12
1 1/8
190
M30
10
250
16
1 1/4
215
M33
12
300
20
1 1/4
220
M33
14
350
20
1 3/8
235
M36
16
400
20
1 1/2
255
M39
18
450
20
1 5/8
275
M42
20
500
24
1 5/8
285
M42
24
600
24
1 7/8
330
M48
Class 900 Flange Bolt Charts
Size in Inch
Size in mm
No of Bolts
Bolt Size UNC
RF Stud Length
ISO Stud Size
Class 900 Flange
1/2
15
4
3/4
110
M20
3/4
20
4
3/4
115
M20
1
25
4
7/8
125
M24
1 1/4
32
4
7/8
125
M24
1 1/2
40
4
1
140
M27
2
50
8
7/8
145
M24
2 1/2
65
8
1
160
M27
3
80
8
7/8
145
M24
4
100
8
1 1/8
170
M30
5
125
8
1 1/4
190
M33
6
150
12
1 1/8
190
M30
8
200
12
1 3/8
220
M36
10
250
16
1 3/8
235
M36
12
300
20
1 3/8
255
M36
14
350
20
1 1/2
275
M39
16
400
20
1 5/8
285
M42
18
450
20
1 7/8
325
M48
20
500
20
2
350
M52
24
600
20
2 1/2
440
M64
Class 1500 Bolt and stud Charts
Size in Inch
Size in mm
No of Bolts
Bolt Size UNC
RF Stud Length
ISO Stud Size
Class 1500 Flange
1/2
15
4
3/4
110
M20
3/4
20
4
3/4
115
M20
1
25
4
7/8
125
M24
1 1/4
32
4
7/8
125
M24
1 1/2
40
4
1
140
M27
2
50
8
7/8
145
M24
2 1/2
65
8
1
160
M27
3
80
8
1 1/8
180
M30
4
100
8
1 1/4
195
M33
5
125
8
1 1/2
250
M39
6
150
12
1 3/8
260
M36
8
200
12
1 5/8
290
M42
10
250
12
1 7/8
335
M48
12
300
16
2
375
M52
14
350
16
2 1/4
405
M56
16
400
16
2 1/2
445
M64
18
450
16
2 3/4
495
M72
20
500
16
3
540
M76
24
600
16
3 1/2
615
M90
Class 2500 Stud and Bolt Dimensions Charts
Size in Inch
Size in mm
No of Bolts
Bolt Size UNC
RF Stud Length
ISO Stud Size
Class 2500 Flange
1/2
15
4
3/4
120
M20
3/4
20
4
3/4
125
M20
1
25
4
7/8
140
M24
1 1/4
32
4
1
150
M27
1 1/2
40
4
1 1/8
170
M30
2
50
8
1
180
M27
2 1/2
65
8
1 1/8
195
M30
3
80
8
1 1/4
220
M33
4
100
8
1 1/2
255
M39
5
125
8
1 3/4
300
M45
6
150
8
2
345
M52
8
200
12
2
380
M52
10
250
12
2 1/2
490
M64
12
300
12
2 3/4
540
M72